Colleen Clayton, Parish Priest
The Rev'd Colleen Clayton undertook her theological training at Trinity College, Melbourne. She was ordained deacon in February 2019 and priest in November that year.  
Colleen's initial training was as an Occupational Therapist, working to assist people in achieving independence and meaning through their daily activities. She has also worked as a children and families minister, as a school chaplain in primary and secondary state schools, and as an Anglicare project worker. 
Colleen was commissioned as Priest in Charge at St Matthew's on 28 April 2020, during the first Covid19 lockdown. It was a challenging time to begin a new ministry but it has also been a time in which the value of our communities has been highlighted. She believes that God's beginnings almost never conform to human expectations and that our task is to learn to see what God is doing and join in! 
Colleen is married to Stephen. They have two adult children and a very excitable puppy.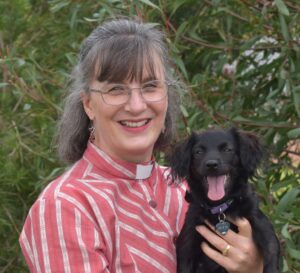 Candice, Assistant Minister
Candice, our Assistant Minister, always maintains that she "fell" into ministry by being in a place where there was a need and she was available. However, the saying "right place, right time" couldn't be more true as it is through opportunity, mentoring and friendship that she developed a love for ministry and recognised God was behind it and steering her the whole time.
While completing a Bachelor of Nursing and having worked at and in areas such as Aged Care, the Royal and District Nursing Service and the Royal Children's Hospital, Candice then completed a Graduate Diploma in Theology (Harvest). Following Graduation she pursued her Masters and is currently enrolled in a Masters of Pastoral Care (University of Divinity, Stirling College). Candice has a love and passion for seeing young people come into relationship with God, growing in the knowledge of God's love for them. She has written a number of unpublished (for the moment) children's stories about Gus the Church mouse portraying modern day parables. Candice is active in the school community, volunteering to run various before school and lunchtime groups and building strong connections with the Chaplains in the local Grammar Schools.
Outside of work and ministry Candice "dabbles" in Community Theatre which is where she met her now fiancé. She is supported by a loving family and her "greatest loves" are indeed her family, especially her niece and her nephew.
Candice is eager to see what God has in store for the ministry at St Matthew's and loves the excitement of starting with a blank canvas full of possibilities and opportunities.